A lazy holiday calls for one of my favourites – a chocolate coffee smoothie
Anyone else feeling lazy this holiday season? If it weren't for a Peppermint Chocolate Coffee Smoothie I'm not sure I'd be up and moving yet. Late nights, a kid that won't go to sleep and no real reason for getting up early have me dragging my butt this week. The really sad part is that even though I'm getting up close to 10am every day, I still get about 1-1.5 hours to myself before my daughter (8 years old) and husband get up for the day. I cherish that small amount of time that I have to myself. During a normal work week I'm either commuting to/from work, at work or with my daughter….there is never a moment of "me time".
This quick and easy Peppermint Chocolate Coffee Smoothie is the perfect simple breakfast for the holidays because it combines all my favourite things: Peppermint + Chocolate + Coffee. Yummy. It also feels like a splurge.
For some added nourishment to ensure I last until lunch I've added oats. Oatmeal is always my #1 go to when I need a meal to keep me going all morning long. Adding it to my morning smoothie has the same effect.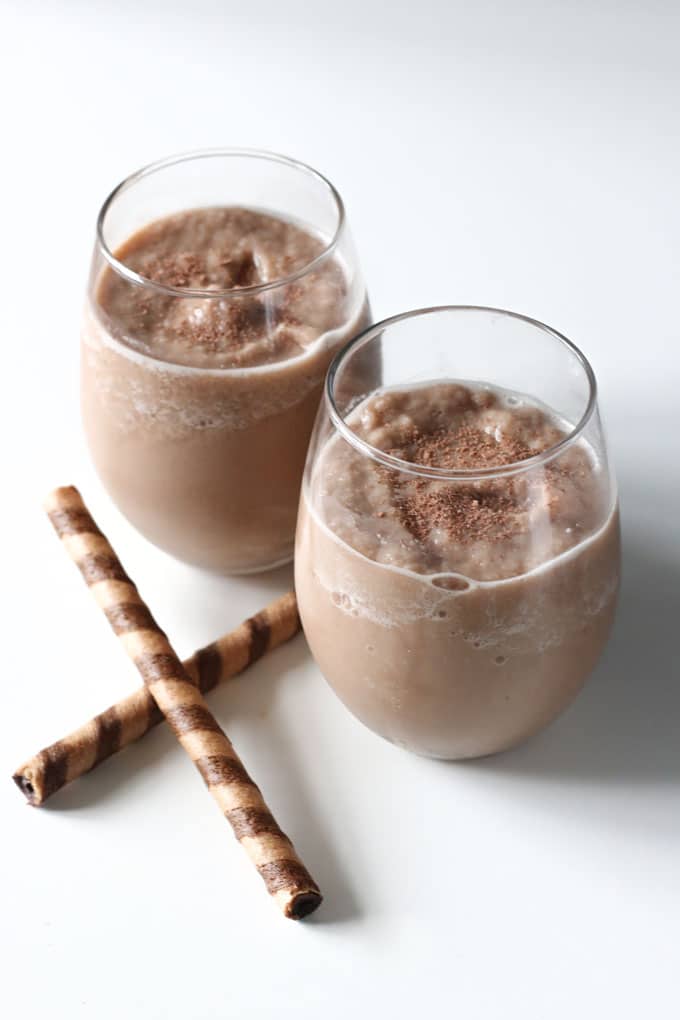 If my husband would get up before noon I'd gladly share or make him his own. 🙂
If you like coffee smoothies as much as I do, you might want to check these out:
Peppermint Chocolate Coffee Smoothie
A quick and easy peppermint chocolate coffee smoothie that will keep you full and energized all morning long.
Ingredients
¼ cup oats
1 frozen banana
¾ cup chocolate almond milk
½ cup cold coffee
⅛ tsp of peppermint extract
Instructions
Add oats to the blender and blend on medium-high until it reaches a flour like consistency.
Add remaining ingredients to the blender and blend until the mixture is smooth.
Pour into glass and top with sprinkling of cocoa (optional).
Notes
You can also try freezing your coffee in ice cube trays ahead of time and adding to your smoothie for an extra icy treat.